Unit 78: The Weekly Gazette
Unit 78: The Weekly Gazette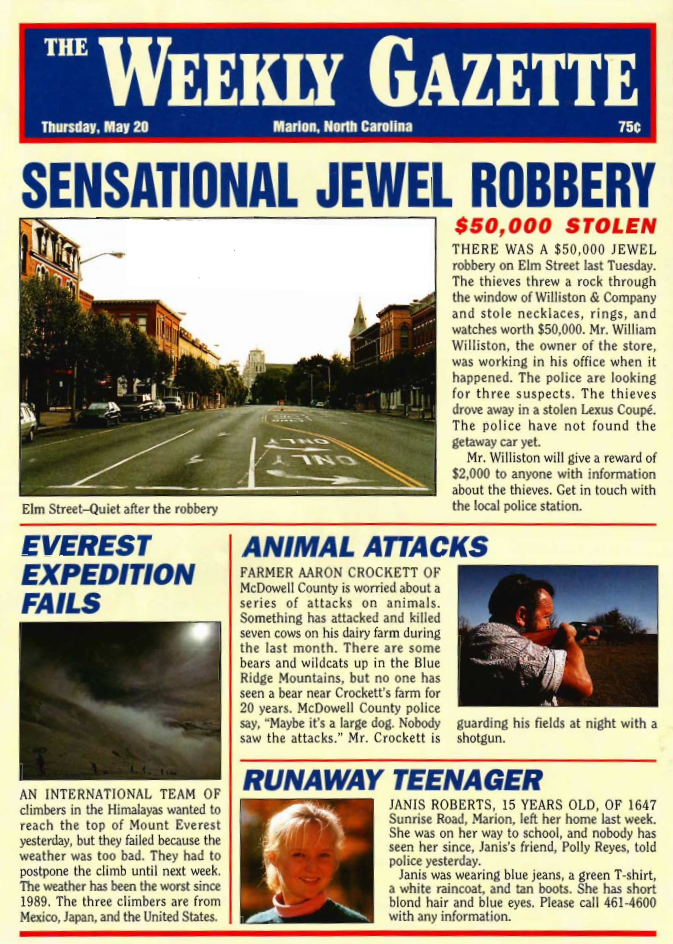 THE WEEKLY GAZETTE
Thursday, May 20
Marion, North Carolina
75¢
SENSATIONAL JEWEL ROBBERY
$50,000 STOLEN
THERE WAS A $50,000 JEWEL robbery on Elm Street last Tuesday. The thieves threw a rock through the window of Williston & Company and stole necklaces, rings, and watches worth $50,000. Mr. William Williston, the owner of the store, was working in his office when it happened. The police are looking for three suspects. The thieves drove away in a stolen Lexus Coupé. The police have not found the getaway car yet. Mr. Williston will give a reward of $2,000 to anyone with information about the thieves. Get in touch with the local police station.
ANIMAL ATTACKS
FARMER AARON CROCKETT OF McDowell County is worried about a series of attacks on animals. Something has attacked and killed seven cows on his dairy farm during the last month. There are some bears and wildcats up in the Blue Ridge Mountains, but no one has seen a bear near Crockett's farm for 20 years. McDowell County police say, "Maybe it's a large dog. Nobody saw the attacks." Mr. Crockett is guarding his fields at night with a shotgun.
EVEREST EXPEDITION FAILS
AN INTERNATIONAL TEAM OF climbers in the Himalayas wanted to reach the top of Mount Everest yesterday, but they failed because the weather was too bad. They had to postpone the climb until next week. The weather has been the worst since 1989. The three climbers are from Mexico, Japan, and the United States.
RUNAWAY TEENAGER
JANIS ROBERTS, 15 YEARS OLD, OF 1647 Sunrise Road, Marion, left her home last week. She was on her way to school, and nobody has seen her since, Janis's friend, Polly Reyes, told police yesterday. Janis was wearing blue jeans, a green T-shirt, a white raincoat, and tan boots. She has short blond hair and blue eyes. Please call 461-4600 with any information.
thanks, farewells, offers, reasons
"Thank you for being with us on your journey of learning English." – Anthony & Aileen